Home of Professional Cinematography since 1996
Filtration Tests
Joseph T McDonnell III
I need to thank Michael Toay, Steve Lucas and Gene Duggan over at Plus8 Digital Burbank. They helped me obtain the gear I needed and the time to play around with it. Also I need to thank Denny Clairmont, Sergio Huerta and Bill Sturcke over at Clairmont Hollywood. They too set me up with all the equipment I needed. Another really big thank you to Michael Bravin and Jeff Cree over at BandPro Burbank. Michael set me up so I could do the frame grabs and Jeff loaned me his personal filter sets. Dave Corely for the DSC ChromaDumonde chart and lastly George Palmer for helping me keep all this in perspective.
Base Camera Setup:
F-900/3
24p
-3db
DSC Cavity Black Chart
Detail Off
Matrix ON
Auto Knee or DCC On
Matrix aligned to DSC Labs ChromaDumonde
Plus 8: 28mm DigiPrime
I shot all the filter tests over at Plus8 Digital. I used my preferred F-900 setup. This is my starting point. My adjustments are minimal. I used a 28mm Zeiss DigiPrime at T 2.8. I was experimenting and accidently shot some examples on 9db gain. It didn't affect the look of the filtration. The gain did add a bit of noise to the examples. The noise is most noticeable in the blue label on the bottle. The rest of the tests were shot on -3db. I use -3db when I can. Some of the filter packs are incomplete. I tried my best to get complete sets.
What you see here are uncorrected examples as I shot them. You have a clean frame for comparison to the filtration shots. I personally would pull down the blacks on some shots as the softer filters tend to lift the blacks. I ran out of lighting units, foam core and time. The bottle of wine disappears into the background. Shame on me. Enjoy.
As usual click on any image for a full res file.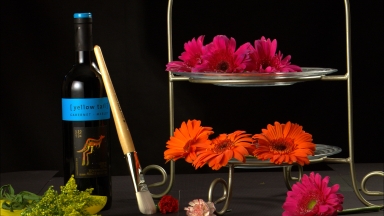 Clean - No Filter
Black Diff FX 1
Black Diff FX 2
Black Diff FX 3
Black Diff FX Half
Black Diff FX quarter
Black Pro Mist Eigth
Black Pro Mist Quarter
Black Pro Mist Half
Glimmer Glass 1
Glimmer Glass 2
Glimmer Glass 3
Glimmer Glass 4
Gold Diff FX 2
Gold Diff FX Half
Soft FX 1
Soft FX Half
White Pro Mist Eigth
White Pro Mist Quarter
White Pro Mist Half

I hope these tests are informative. I sure educated myself doing them. If you have any questions on what I did or why please feel free to contact me anytime.
Sincerely,
Joseph T McDonnell III
Cinematography/High Definition
IATSE 600
New Orleans, La
Los Angeles, Ca
818-675-1501
ltr54@verizon.net